Tax
Nick Casagrande, EA has 'decades' of tax planning and preparation experience - from the straightforward to the complicated.An Enrolled Agents (EA) is the IRS's highest credential for tax preparers.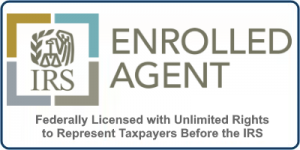 Our approach is to tailor your unique financial situation to be as tax-smart and tax-efficient as possible.
That means we utilize ALL the tax-favorable and tax-advantaged offerings. We strive to make the most of, and to protect, your income as well as help you plan for your future.
We don't want you to work hard for years with little to show OR pay more taxes than you should.
We'll use --
Tax-favorable tools help reduce the amount of money you will pay in taxes in a given year - Traditional IRA's & 401ks, Health Savings & Flexible Spending Accounts, Educational Savings, Child Tax Credits, Charitable giving.
Tax-advantaged tools like Roth IRA's & 401K's allow you to invest and grow your savings tax-free. Roth accounts grow completely tax-free.